Help us choose our Spring Box Reviewers!
Thanks so much for helping us choose our Spring Box Reviewers! The votes were so close, we had to pick four. Congratulations to: Cristin, Hayne, Madeline and Carol!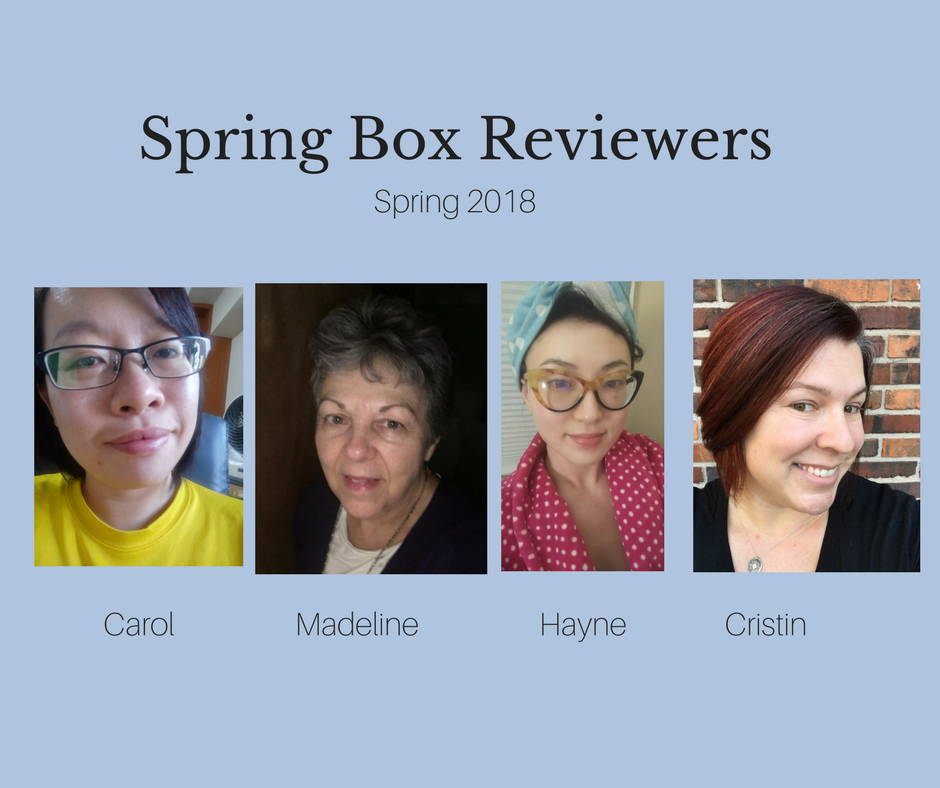 Cristin Burns
About Me: "I'm a single mom to a precocious kiddo, a lover of books, fierce friend and, despite being pasty and prone to burning, I would spend every waking moment on the beach if I could."
Skin Type: Aging with combination skin (oily T-zone).
Climate: North Florida, aka an armpit. It will be hot and muggy!
Why Would You Be A Good Reviewer? "A good review will provide honest feedback on everything from scent to texture to overall impressions with a sense of humor and an eye towards being as inclusive as possible. If the reviewer is having fun, and so will the viewers. Likewise, because customers will make purchases based on these reviews, it is also important to be as honest as possible so that no one is misled or only partially informed. Honest to a fault and a goofball, I believe I can and will deliver helpful and entertaining reviews."
Hayne Kim
About Me: "I am a product planner in the auto industry and mom to 3 furkids. I live in Michigan but am finding myself on a lot of business trips to very different climates. My background is Korean-American so I have grown up with K-beauty products and I spent around 4 years working in Korea during my mid-20s. I love sharing knowledge, especially about products I love, and I have a hubby that I may or may not battle with over how much of the SB products each of us gets to use!"
Skin Type: Very sensitive skin (product wise and stress wise), with dry spots on my cheeks but generally oily t-zone.
Climate: Savage Michigan spring weather with some days being humid and rainy in the upper 40s to lower 50s then plunge back down to 20 and dry
Why Would You Be A Good Reviewer? "I have extensive K-beauty experience and I fancy myself both a wordsmith/gifted gabber. I can also be a little funky (see VCCO milia video for evidence!) I also have worked in marketing for years, so I think I know how to strike a good balance between honest review and marketer gushing"
Amy HornburgHeilveil
About Me:  "I'm about to be 48. I have combination skin. I am an adjunct in a communications department. My husband is a professor in biology at the same college. We have a very busy 11 (nearly 12) year old daughter, V. She also loves Sabbatical Beauty. Along with teaching, I am also a synchronized swimming coach so between that and officiating swim races, I spend a lot of time on pool decks with high humidity and then go out into the central New York weather. I LOVE Sabbatical Beauty; both the products and the community of supportive and caring people. It really is a company like no other and I am fortunate to be part of the community."
Skin Type: Aging, sensitive, dry in some areas, slightly oily in others, with areas that are 'normal'. I have occasional acne as well.
Climate: Central upstate New York. The temperature should be between 35 and 45 with a mixture of rain, snow, sleet, and the occasional sunny day.
Why Would You Be A Good Reviewer?  "Having skin that is such a combination, I will certainly be able to use the products in a variety of ways for a variety of reasons/problems (this for the dry areas, this for the oily areas, something for the wrinkles, etc.). Being 48, I am looking to bring back some of the youthful glow I once had (Blush is great for that!). I give very good descriptions of products and results. I will also be able to pair the products in the box with other SB products so Beauties will be able to better understand where the box will fit into their routine or what they may wish to augment it with. I am personable and very chatty. My daughter has also said she would help with the review so those with children will be able to get her POV, should they be looking to start their pre-teens or teens with SB for a lifetime of good skin. I have a lot of enthusiasm and love for Sabbatical Beauty and want everyone to benefit from it!"
Madeline Pendergrass
About Me:  "Semi-retired RN, mom of 2, married cat lover. Built a website & learning marketing for my handmade jewelry. Love my volunteer jobs, Reading Partners & interviewer for local help agency. Supportive of handmade businesses, & like to take good care of myself!"
Skin Type: T zone was oily, less now so; aging but no facelift for me! Sensitive at times with weird dry red flaky patches above eyes & neck, slow to heal. Probably use too many different products...
Climate: Windy, sunny with big temp variations; some humidity; maybe a rare late snow storm.
Why Would You Be A Good Reviewer? "My demographic is 65+ women who really care for & want to take good care of their skin, but need help figuring out what to use! So I'd like to reach out to them and let them know how SB meets our needs. I have good language skills for writing, just not great tech skills, but will learn how to do that video just for this. I also would like to just focus on products from 1 company, SB, to get a clear idea of how these products can help."
Carol Tang
About Me:  "I'm a 38, going on 39 year old mom a ten year old monster. I live a tropical climate, and have super enlarged pores and oily skin that's begging for attention!"
Skin Type: Super oily, with enlarged pores and abundance of blackheads
Climate: Tropical. Hot and humid.
Why Would You Be A Good Reviewer?  "SB has worked for my skin, so I would love to try and see if there are more items that can work it's miracle on my skin. Also, I want to share with others how the products work and how they can benefit from SB products. I Would make a good reviewer SD I am from a different climate, and will be exposing my skin and SB products to a environment. This will really test how the products work in any given climate."
Darci Doll
About Me: "I'm a Philosophy Professor in Michigan and am working on my PhD at Michigan State University. I have "normal" skin that's starting to show signs of aging. I've been involved with SB for almost a year and would love the chance to get more involved in the community."
Skin Type: Normal, starting to age. I tend to be a bit on the dry side during the winter, have occasional breakouts but skin is fairly basic otherwise.
Climate: March in Michigan is the start of spring. We still have some cool temperatures, possibility of snow, but it starts to get warmer. There should be an increase in daylight, humidity, temperature, during most of the review session. This is a time when I'll be looking to recover from the winter and need more moisture than I'll need in the summer, but still needing to take into account the delicate changes of spring.
Why Would You Be A Good Reviewer? "I've been involved in the Sabbatical Beauty community for almost a year. I've loved having the opportunity to be a tester and would love to continue to be more involved. I think that I have a skin type that serves nicely as a blank canvas. It responds well to changes while managing to stay pretty "normal." I think I'd be a good reviewer because I'm honest, upfront, and am happy to share the ups and downs of my skin routines. This would give me a reason to try to see what would happen with my skin if I was loyal to one specific routine, which is something I haven't done yet. I would love to have the opportunity to share that with the community."